I love reading about different types of sewing machines! This time, I have decided to link up with the linky party over at The Tilted Quilt for the Meet My Machine blog hop currently going on
.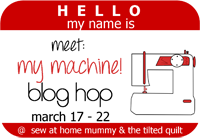 I got my new machine the week after this past Thanksgiving. I have been in LOVE ever since
.
Bernina 750QE
My current machine is the Bernina 750QE. I had been in the market for a new machine for awhile and I first test drove one of these beauties in October and just couldn't get it out of my mind. I finally pulled the trigger and ordered her at Quilt Festival in Houston and picked her up the week after Thanksgiving. I haven't officially named her, although my husband says I should name her Betty. The jury is still out on that one.
Things I love about this machine:
REALLY EVERYTHING! I am still learning about this machine and am scheduled to take three classes on her next week but for now I will say I love these things about the machine specifically -
Automatic thread cutter - how did I survive before?!

Speed control of the machine is adjustable

The lights! She is bright with 30 LED lights on her!

Large throat space for quilting

Pretty, pretty, pretty stitches every time

BSR

Super large bobbins!

Dual feed system

Needle up/down
I would definitely recommend this model to anyone! I love love love this machine. The only downside that I can note about this machine is her weight. She is a heavy girl but that is okay with me as I don't plan on moving her around often.
The machine I upgraded from was the Singer 7469Q Confidence Quilter. I sewed on her for almost two years and while she was great to learn to sew and quilt on, she was limited in her abilities. I was frustrated with they way she would chew up fabric and she just had tension issues too frequently for my liking. The tension issues were the worst when I would free motion quilt. I do still use her as she is my traveling machine. Here is a side by side comparison of my old and new machine. Check out the size difference!
I also have these two machines. The aqua one is a Singer 338 and she is a tank! My Mom received this machine as a high school graduation gift. I remember sewing on her, here and there, as a child and she still does work but could use a good tune up. Funny, the machine still smells the same way that it smelled when I was a kid! Who knows what that smell is, but I kind of like it.
I just received this black Singer from my sister as a gift this past weekend! I know nothing about it! I haven't even tried to turn it on yet, but she is pretty.
My sewing space needs some major organization, but I will share a few pictures anyway. Currently I sew in the back part of our family room behind our sofa, affectionately called "The Nook." I have some storage in the nook but the majority of my fabric lives upstairs. I recently purchased some comic book boards to neatly organize my fabric but just haven't done it yet. I also want to figure out a way to move my fabric downstairs to the sewing nook. One day. One day.
Thank you for stopping by my little blog! I am looking forward to reading all of the machine posts!